When I made this
Flying Geese Quilt
, I saved the little strips left over from cutting. I had an idea for a mini project that I wanted to make with them.
Today I had a few minutes in the sewing room, so I sat down and stitched them together in rows. As I was sewing them, I started thinking about the original quilt.
Because I sold it.
I didn't list it in my shop for awhile, but then I did, for the same reason I sell most of my quilts. Secretly almost hoping it wouldn't sell. And then it did, within a week. Figures!! I think I gave it an extra pet or two as I packaged it up, but then I knew that the person who bought it would give it more love than I could, so I'm no longer sad:)
Anyways, as I was sewing these little strips together and thinking about this quilt, I was thinking about selling quilts in general. It seems to me that I have a different viewpoint than a lot of other quilting bloggers, at least the ones who have mentioned this topic.
I think the #1 problem most quilters face is that people do not want to pay what the quilt is worth to the maker. This worth includes the actual material costs, time spent, and the emotional attachment which one just can't help investing in a quilt. (the actual pricing of quilts is another topic for another day!)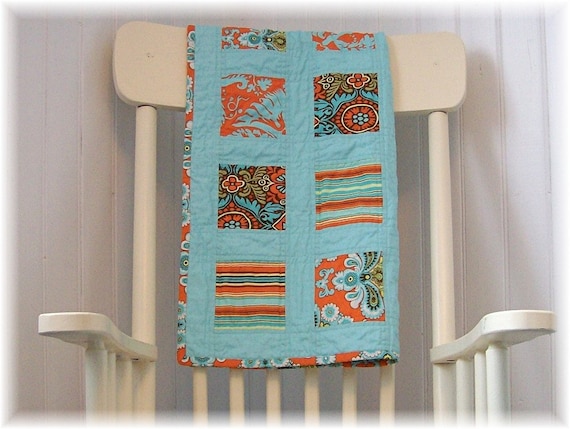 (Pictured above is the first quilt I sold on Etsy in December 2009)
So here's a couple of reasons why I sell a majority of my quilts.
* If someone buys a quilt from me, I know they really want it. I'm not selling them for bargain basement prices (some might disagree) but rather try to find a fair price that compensates me for the cost of materials and time but is also a realistic amount that the market can bear.
For example, the Flying Geese quilt that I just sold. I really like that quilt, and spent a fair bit of time putting it together. I would have gladly given it to someone I know if they had shown a genuine crazy love for it! But when someone chooses to buy it, this also makes me very happy because I know that people don't throw $$$ at something they don't love. I feel like the people that buy a quilt like this obviously understand the value of a hand made quilt.
* The feeling of making something with my hands and then putting it in my little store, together with selling it and sending it off to a new home fills that one little spot in me that being a wife and mom at home doesn't quite fill.
* It 'sort of' justifies me in buying more fabric! (this can be taken waaay too far though!!)
The fact is, in the fall of 2009, I decided to try selling a few quilts on Etsy. (This was a couple of months after my daughter was born, and my son was 2 1/2 yrs. I have no idea....)
I still remember the feeling of that first quilt sale. And I've been doing it ever since!
As a small disclaimer, I want to add that I'm so thankful that this has been a mildly successful venture for me, but I know that it hasn't worked out for all who've tried it. There can be so many reasons for this, and selling crafts online has changed vastly in the last 5 years.
One thing I can say though, is that it didn't happen on it's own. I have spent countless hours struggling to get photos that look good, tweaking my shop's appearance and working on customer service.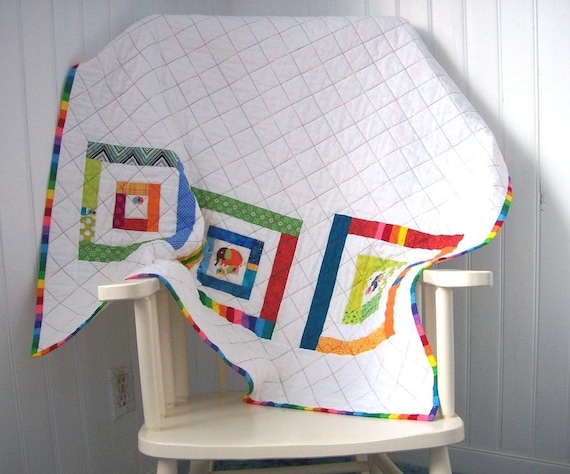 (another one of my early quilts I made to sell on Etsy)
There have been many moments where I've told myself that there would be so many easier ways to make a profit out of this hobby, like writing pdf patterns, but in the end I always come back to selling my quilts. I dream of having a large inventory with many styles and sizes, maybe some customizable options... these all may happen some day, but for now it just makes me happy to sell a few of my hodge podge creations:)
as always, thanks for reading!! those of you who have read my blog through the years, left a comment, or bought a quilt from me, just... Thanks! I hope you are rewarded for supporting and being a part of this community of creating.